I had heard of the Fremont Indians, the Fremont Indian State Park is in our database, and we've visited a couple of times. Great state park and museum, by the way. What I did not know is that a thousand years ago there were hundreds of Fremont Indian pit houses across the Utah Valley. Just imagine!
Our excursion started when we saw a news spot on Fox13. They were at an active archaeology dig near the Provo Airport. Students at BYU and UVU were helping to excavate several pit house locations. I contact the media liaison for BYU's archaeology department via email and set up a tour for our family and a couple of other homeschool friends. We went out on Thursday afternoon and had a great time!
When we arrived we saw that there was a main gathering tent set up. We gathered there where we met Kara, talked a bit about the Fremont Indians, looked at some Fremont artifacts (some found on that site, and others found around the state), and examined a model of a pit house. We saw clay figurines, a whistle, some pipes, arrowheads and many different tools, pot shards and even some rope.
From there our guide, Kara took us to each of the site features where we saw students and teachers working to uncover treasures from the ground. It was fascinating to watch them scraping and sifting through the dirt. At each feature they showed us some of the things they had found that very day. It was eerie to think that we were among the perhaps 30 people that had seen those artifacts in more than a thousand years! On our tour we saw some arrowheads, a spear point and a small bead found that day. At our final stop on the tour we found some very excited archaeologists. They had just found a piece of corn. Now, for me that doesn't sound very exciting, but we were told they can use that corn to get a more accurate date on the site.
The entire experience was a lot of fun. It was informative and informal enough that everyone could ask these working experts all their questions. So glad we had this opportunity and that they were willing to let us come and see these amazing places. As we were leaving, my friend Julie commented to me that it is amazing what you can find in Utah. You could probably spend a lifetime exploring here and still not see everything. I completely agree!

Are you looking for something that the whole family, and I do mean the WHOLE family, can enjoy?  Well, so were we and that's why we chose Boondocks for our family reunion.  With lots of arcade games, the XD interactive theater, MaxFlight Simulator, Laser Tag, Miniature Golf, Batting Cages, Bumper Boats, Kiddie Cove and several Go-Kart tracks who wouldn't have fun
 So after several months of planning and lots of help from James, their Group Sales Manager, the day finally came.  We were so excited until we saw all the rain.
Who's going to let a little, well… a lot, of rain spoil their fun? Not us.  We showed up right at they opened and James was there to help us get everything started.  After we got all our stuff setup in the private room we had reserved, it was time to have some fun.  Even though the outdoor activities were closed because of the rain we still found lots to do inside and the kids were so excited they didn't know where to start.  Since there weren't very many people there at first, we ran around between the Laser Tag, XD Theater, MaxFlight Simulator and the arcade games.  What fun!!!  Slowly our family started to trickle in and then the fun really began as we were now able to challenge our family members as we played the large variety of activities that were available to us.
Around 1:00 we all started to make our way to our private room where Boondocks was providing us with a catered"Deluxe American Buffet" of hamburgers, hot dogs, mac & cheese, baked beans, salad, drinks and desert.  What a wonderful meal and the best part of it was that we didn't have to make it
As the afternoon, and the rain, continued on, they decided to open up some of the outdoor activities and so several of us made a beeline for the Go-Karts.  Yes it was still raining hard and yes it was cold, but we didn't care because we wanted to race each other.  Once we got to the Go-Karts and strapped ourselves in, we were ready to prove who was the best driver in the family.  That attitude changed slightly as we left the comfort of the covered area where the Go-Karts were and entered the cold rain.  A little cold and rain never hurt anyone…right?  Racing around the track, sliding around, wiping the rain from our faces and feeling our fingers start to go slightly numb from the cold was just a small price to pay for the fun we were having.  When the race came to an end it was a little disappointing because we were having so much fun.
After you're done with the race and you're cold and wet, there's only one thing to do…get back in line and go again, well for some of us.  The smart ones went inside where it was warm and dry, but some of us aren't that smart and spent a majority of the rest of the afternoon getting in line over and over again with short interruptions so we could use the bathroom and check to make sure our kids weren't wrecking havoc on the place.
Overall it was a great time and even the weather didn't prevent us from having lots of fun.  So if you're looking for something to do with your immediate or extended family, we highly recommend going to Boondocks and let your inner-child run loose.
It might seem odd to worry if there's enough snow in February to go cross country skiing, but that was our concern as we headed up Parleys Canyon and then down Highway 40 on our way to Soldier Hollow.  Winter isn't one of our more active times of the year, but we decided that it was time to get out and have some fun, especially with how nice the weather has been lately.  As we approached Soldier Hollow it wasn't very encouraging to see the green on the hills that would normally be covered in white.  When we got to the parking lot we could see that there was snow on the ground and so we decided to at least check with them to see if it was worth going or if we should try this next year when hopefully there'll be more snow.  They explained to us that today was a pretty good day, of course they're going to say that :), and that they had to make their own snow, but there are plenty of trails to go on.  After walking outside and looking it over we decided to go for it.
Going back inside we met with our instructors, Deanna is the only one of us who was a skier, where they set us up with the boots, skis and poles that we needed.  Then it was time to go out and learn how to use this stuff and hopefully not injure ourselves too bad when we fall down.  The two instructors we had were really great to work with and very patient as we spent a lot of time falling down and trying to master the ability to stand up after the fall, climbing hills and stopping.
Now that we had become familiar with all this, it was time to head out on the trails and see what we could really do.  The beginning area had a couple of nice little slopes and so we paired off and started having our fun.  While I was hesitant at first to go down hill, I wasn't terribly comfortable with how to stop, I quickly learned that if I just keep going and down fall then I'll be fine
 It really wasn't too bad and before we knew it we were climbing hills repeatedly just so that we could go down them.  There was another skier that I was watching that seemed to be learning too, but it was encouraging to see him repeatedly climb the hills and go down.  So after watching him go a couple of times I decided that it was time to stop doing the small stuff and have some real fun.
The four of us started climbing higher than we had before and when we got to the point that we were too tired to climb anymore, it was time for a break.  Looking out over the Heber Valley was beautiful and we sat back for a little while just enjoying being outside.  Once we had finished our break and getting re-hydrated, it was time to see what we could do.  As everyone headed down the hill, I stayed at the top to watch how they were doing and to make sure everything was alright.  Although the kids fell a couple of times, I could see they were handling it pretty well and I didn't need to worry about them.  Now it was my time to see what I could really do.  I love a good adrenalin rush and so my goal was to go down this hill, which was steeper and twice as long as others we had done, and see how fast I could go down and hopefully not injure myself.
When I pushed off it felt great to have the wind in my face and passing my family members after they had fallen and were still working on getting back up.  I had watched others go down the hill and so I started copying what I saw them do.  I bent my knees and tucked into a semi-ball with my ski poles behind me and went as fast as I could.  I loved that feeling and started seeing why downhill skiers love to go skiing.  As the bottom of the hill approached I started to worry if I would be able to control my stop or if something else was going to stop me
 Fortunately there was another hill that was going up and so I aimed for it and let it slow me down.   My youngest thought that was so great and decided to copy me and so for the rest of the time there we all had a lot of fun seeing what we could accomplish with our limited skills.
Although I'm not a cold weather person, I had a great time learning to cross country ski and I know this is something that our family will being doing again.
Why go to the other side of the world to see the sand dunes of the Sahara when we have our own Little Sahara here in Utah?
This adventure was taken with several other families who wanted to go rock hounding at Topaz Mountain out in the desert west of Delta.  Since we were from different parts of the Salt Lake and Utah valleys, we decided to all meet at the city park in Nephi and have lunch together.  After eating lunch and playing hackie sack for a little while, the adventure finally began.
Since there's no decent camping spots out at Topaz Mountain, we decided to stay at the Little Sahara camp ground.  This was a great idea because it's the off season and so getting a camping spot wasn't a problem, but we found out very quickly why this was the off season.  It gets very hot out there and they were re-paving the roads.  This made it interesting trying to get a camp ground, but we were finally given approval to go to the camp sites.  After getting camp setup, we spent a fair amount of time trying to stay cool by sitting in the shade or playing games in our tent.
While talking with one of our friends and telling her about FunAroundUtah.com and what we have planned for it, it gave Deanna an idea…why don't we go geocaching.  The others hadn't heard of it, so it was a new adventure for them.  Getting out on a geocaching treasure hunt…what a great way to entertain the kids.  The first one we went to was the Sand Dunes Trashy Cache and while they were looking for the cache, some of the kids found a snake skin and decided to collect pieces of it.  The parents had so much fun with the first cache that they downloaded the app on their phones so they could help find the caches too.
Off to the next cache, Snakes!.  Unfortunately this looked like it had been lost to the blades of one of those machines that trims the weeds on the side of the road and so it was time to move onto the next one.
USSynthetic broken tree cache took us to a picnic area that had a fenced off area for the kids to play on the sand dunes without having to worry about ATV's being in the way.  The adults sat back in the shade while the kids kept running up the dunes and running, rolling and sliding down them.  When the kids finally came back, it felt like they had brought half the dune with them as they emptied all the sand from their shoes, socks, shorts and shirts.  Who would have thought that sliding down the sand dunes would fill your clothes with…..sand J
After our little adventure, we headed back to enjoy a group dinner and a visit from the local ranger.  He talked with us about the area, it's geology and how it's constantly changing.  Because of the wind in the area, the dunes are moving 5 ft a year and because of that they have some of their campgrounds that they have to move so the dunes don't overtake them.  The sand is also finer than most people are used to and so many people have a hard time on it because it's not as easy to move in as courser sand.
After enjoying dinner, talking with friends and taking a walk past a rattle snake, it was time to head to bed and watch the stars as we fell asleep.
The next morning we had breakfast, packed up and headed out to Topaz Mountain.  One of the families that went on this adventure is very familiar with the area and so we let them lead the way.  This was fine with me because the last time that I had actually been up to the mountain to gather topaz was back when I was a boy scout.
Topaz Mountain is about a 1.5 hr drive from Little Sahara and so we had plenty of time to talk about what we wanted to look for and how to find it.  The turn off is clearly marked, but be aware that the road can be deceiving.  It starts our fairly nice, but depending on which path you take, it can have lots of ruts and or large rocks in the path.  We scraped the bottom of the car way more times than I would have liked, but were able to get to the collecting site.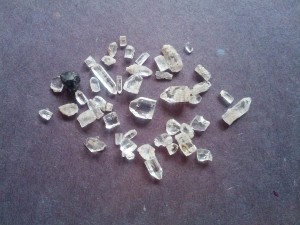 To find pieces of topaz isn't too hard, all you have to do is look at the ground and walk toward the sparkle.  That was great for the little ones, but for those who wanted to bigger pieces, we had to break open rocks and climb all over the hill.  All in all, we found some nice pieces, but I wouldn't mind going back again with a higher clearance vehicle to get up to the really good stuff.
After having our fun with the topaz, I wanted to go to the back side where we could find obsidian, beryllium and trilobites, but it was getting time to head home and so we took one more quick side trip.
Not too far from Topaz Mountain is the old ghost town of Joy.  It's a mining town that never quite made it and left several buildings and mines throughout the area.  Once we found the town site, we drove down the canyons and saw many structures and mine tailing piles.  Because of the limited amount of time we had, we didn't get out to explore, but it's totally on our list of places to visit again.
This whole trip was great, yet tiring.  If anyone else is thinking of going I would highly recommend it, but it is the kind of place that's best visited during the spring and fall so you can avoid the heat that comes with being out in the desert with very little shade.
Everyone loves ice cream!  The iconic image is that of some kid behind a counter scooping up ice cream cones.  Sub Zero is a whole new experience!
Picture 75 plus people gathered in the shop.  They range in age from babies in arms to adult.  The children are gathered around our presenter who teaches us about science.  Yes.  Science!
To get started we needed a bowl of liquid nitrogen.  The kids eyes were wide open as our presenters opened the faucet, sprinkling clear, cold nitrogen into a metal bowl  At -320 degrees Fahrenheit the sudden change in temperature results in a dramatic cloud as the water in the air condenses.
With the help of the nitrogen, a few water bottles and a beloved red balloon we learned about condensation, evaporation, pressure, volume and temperature.
How did all this science lead to ice cream?  An understanding of how ice crystals (water crystals) are formed leads to the use of liquid nitrogen to quickly freeze your chosen ingredients and make what may be the creamiest ice cream you've ever had.
A few fun things we experienced on our field trip:
We learned about Nitrogen; it's in the air we breath; it's in our bodies; it's safe, colorless and tasteless.

We learned about the relationship between pressure and volume and temperature.  We manipulated that relationship to take an inflated balloon and shrink it down to almost flat, and then re-inflate it using the liquid nitrogen to dramatically change the temperature.  Then we used the relationship to inflate the balloon using the nitrogen and then watched as it very dramatically grew until it exploded.
We learned that liquid nitrogen is more buoyant than water.  This lovely realization led to a bottle rocket of sorts.  So fun!
Our field trip to Sub Zero was fun and engaging for all present.  We learned a lot and enjoyed a yummy sample of ice cream.  As the organizer, I can tell you that both the managers of the Murray store and our contact from corporate were delightful to work with.  The cost of the field trip was reasonable (around the cost of a kids size ice cream) and we all had a lot of fun.
It's amazing how much million year fossils can change over 25 years; but well come back to that.
This weeks adventure was to go out and find fossils.  One of our friends had told us about shell, plant and footprint fossils that can be found in Spanish Fork Canyon.  After doing a little research we found a place that was along our desired route.  We found directions
here.  It was pretty easy to find.  The dirt road seemed like it would normally be easy to navigate, but we chose a rainy day and it was starting to get a bit muddy.  Once we parked at the site, we were able to easily find shell samples in the many broken layers of sediment. Larger rocks had shell pieces exposed; there were pieces of broken rocks that had trace fossils and we found a few in-between samples where we could break apart the layers and find even more.  It was a very fun find for the whole family.  The biggest challenge was trying to decide which samples to bring home, and which ones to leave.
"Clink". That's right I said clink.  Clinker to be more exact.  We had picked out one more rock hounding type stop.  Clinker is formed from the shale, silt stone  or sandstone beds surrounding a coal layer that has burned.  It makes a unique sound when hit, which is where it gets its name from.  We found directions here and picked up a few colorful samples. This site was near the Castle Gate Cemetery.
Our final and main destination was the Cleveland-Lloyd Dinosaur Quarry.  We had seen signs just off of Highway 6 for many years and finally had a chance to check it out.  Spencer had been there on a Boy Scout trip 25 years ago and remembered learning about how the area used to be a swamp which created a predator trap for many, many, many,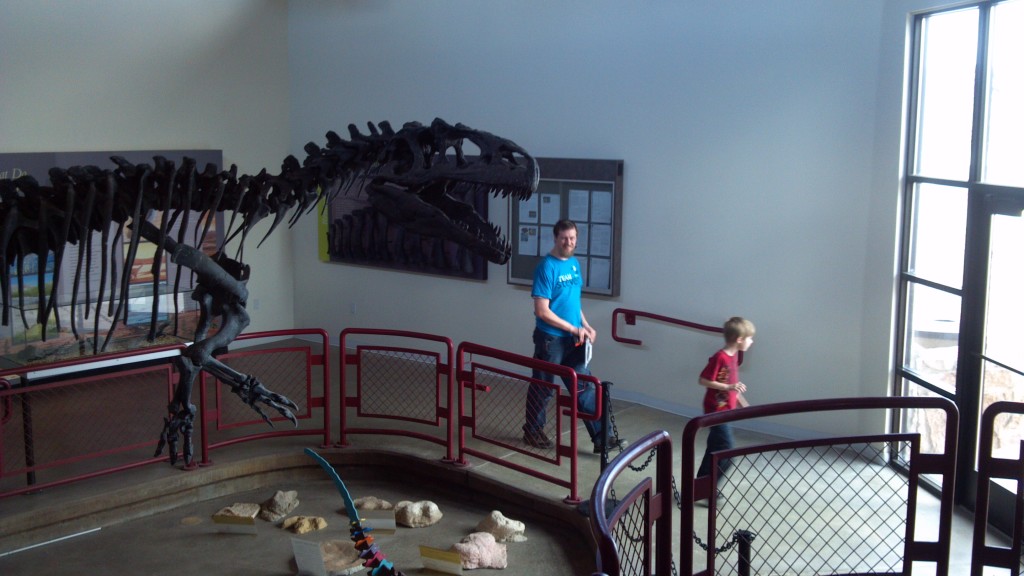 dinosaurs.  Interesting…The story has changed.  Thousands of bones have been found here and the swamp seemed like a decent explanation.  More recent analysis has shown that this likely was not a swamp.  So now it is a big mystery to paleontologists.  The bones found here are not clearly laid out in skeletons, they are all mixed together with several different species and the  majority of them being Allosaurus remains.
It does cost $5 per adult to visit (12 and under are free).  We didn't have time but there are 3 interpretive trails that would definitely be good to check out.  They have a Jr. Explorer packet that our boys enjoy
ed.  It has information to fill in using the information learned at the visitors center as well as several places to draw, and some puzzles to solve (a maze and a crossword).  You can print it off from home if you want some car entertainment, or they have pretty glossy booklets at the visitors center.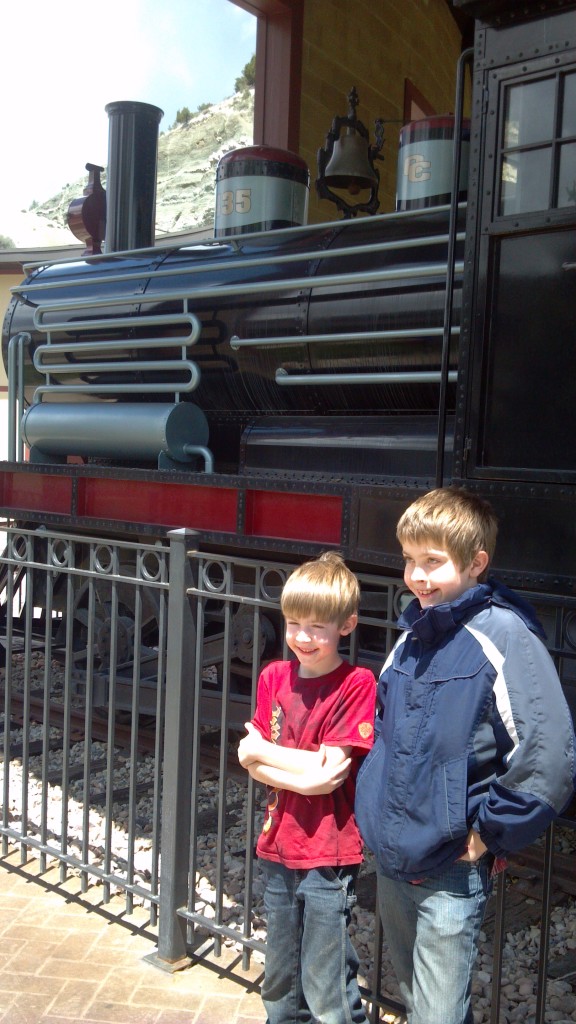 Earlier in the day we had stopped by the only rest stop along our route.  It is fairly new and on the northeast side of the canyon and it has a railroad display including a replica train and several boards sharing some good information about the area.  During this stop we started talking with some nice folks who were in the area doing maintenance on the Mill Fork Cemetery.  They told us a bit about their family who were from that area.  Having noticed the cemetery many times on our trips down highway 6, it seemed like as a good a time as any to check out the cemetery.  It is just a small cemetery on the north side of the highway.  It's noticeable by the big white arch with the name on it.
At the entrance to the cemetery there is a board up with the history of the families and the area.  It is a lovely little place with a few simple picnic tables and a log book for visitors to sign.  This was just the outing we needed on this May weekend.  Lots of good family time in the car, we learned a few things and we return home with some great treasures.
It's kind of funny to watch people react when we tell them we took a day trip to Filmore.  At first they look surprised.  "Really?  Filmore?"  Then they want to know what we did and as we discribe our trip they seem more an more enthusiastic.  Who wouldn't want to go there? Sounds like fun!
So we got off bright and early last Saturday and headed south on I-15.  Our main destination was Filmore, but we did get off in Mona and head out to Young Living Family Farms.  You've probably noticed the signs and wondered about what that might be all about.
We enjoyed wandering around the beautiful grounds.  We have been here before (in the winter) and it was nice to see everything uncovered.  Some day we will make it in June when the lavendar is blooming.  These farms harvest the lavender for use in creating essential oils.
The grounds are beautiful to walk around.   It was early when we were there but the feel there is a bit like a theme park.  There's an old west village, a pond with paddle boats (we asked and they cost $3 per person per ride), and a rock climbing wall.
We did have fun feeding the ducks, geese, swans and huge fish.  That fish really surprised us. . . he was quick to get the food.  That must be why he is so large.
 Our next stop was in Filmore at the Territorial Statehouse State Museum.  This is a fun little museum that I would recommend to anyone. There is a small cost to visit, but it is quite reasonable.   It's a great piece of Utah state history and we learn something new every time we visit.  This is the home of our first capital.  It is only one wing of a much larger building that was planned and placed near the center of the large Utah territory (before statehood).  Only one complete legislative session was ever held here.
One of the first things you'll see at the museum is this hallway lined with portraits of unsmiling pioneers.  We found several of our own relatives on the walls and had fun teasing about the possibility of these spooky photos lining a haunted museum.  Another favorite exhibit had an old printing press and type.  Did you know that the press and its type were hidden here for a few months when the U.S. Army came to Utah to investigate the Mormons?  That was news to me!
This building also served as a temporary jail cell at times.  My kids had fun checking out the chain, simple bedding and the mysterious bucket in the corner.  Other exhibits include some recordings and lots of good information about trades and traditions in the early years of the state.
One of our favorite things when we go on an adventure is to learn about new things and places to visit.  The curator at the museum was kind enough to lead us to our next destination.  Just in a few miles away we visited the Heiroglyphs at Chalk Creek where supposedly Moroni himself carved writings in the rock walls.
I don't know if I believe that Moroni (from the Book of Mormon) wrote on these walls, or the legends we discovered that claim there are golden plates buried below. . . but this is definitely an intriguing location.  To get here you turn onto 200 South Canyon Road (from Main Street) and follow the signs to Chalk Creek Hieroglyphs.  It is fairly well marked and easy to find.  Our little Prius made it up the road just fine, but it is a dirt road so if you're squeemish about taking your car on dirt roads, you may want to pass on this adventure.  This little mountainside is covered with rocks and boulders, so be cautious and watch out for rattle snakes.  We were told they are not uncommon.
We love looking at old Native American art and have been to several sites throughout the state, but this one was definitely unique.  These are not the kind of figures we have seen in other places.  The literature posted nearby says these writings resemble those you would find in Mexico and there was some mention of Egypt as well.  One theory is that this may have been an ancient Aztec trading route.  Various translations make mention of gold being buried here and something about two golden plates.  On at least two separate occasions people have tried to find that treasure.  As they dug, toxic gasses were released and they died.  No treasure has ever been found.  We find it particularly interesting that this site is so close to where we often stop to rest on drives further south, and yet we had no idea about the facinating stories that surround it.
Our next stop was Historic Cove Fort.  Found just off the side of the freeway (about 20 minutes South of Filmore).
   The grounds are well cared for and there are picnic tables.  You will be greeted by a missionary from the Church of Jesus Christ of Latterday Saints who will offer you a free tour.  They are very kind and helpful and gave a great tour.
Here is the telegraph office with the homemade batteries found under the desk.  You could hear the sounds of the telegraph clicking morse code.  We were told it said "Welcome to Cove Fort" or something like that.
We learned a lot about that early pioneer life.  In this room they talked about the mattress tick and how it could be made into clothing like a mans pants.  When those were worn out they would be torn into strips and made into a rag rug.  When the rug was worn out it could be used as fuel for a fire and then the ashes could be used to make lye for soap.
Pretty cool to have a room with a trap door.  I think this may be the coolest boys room ever!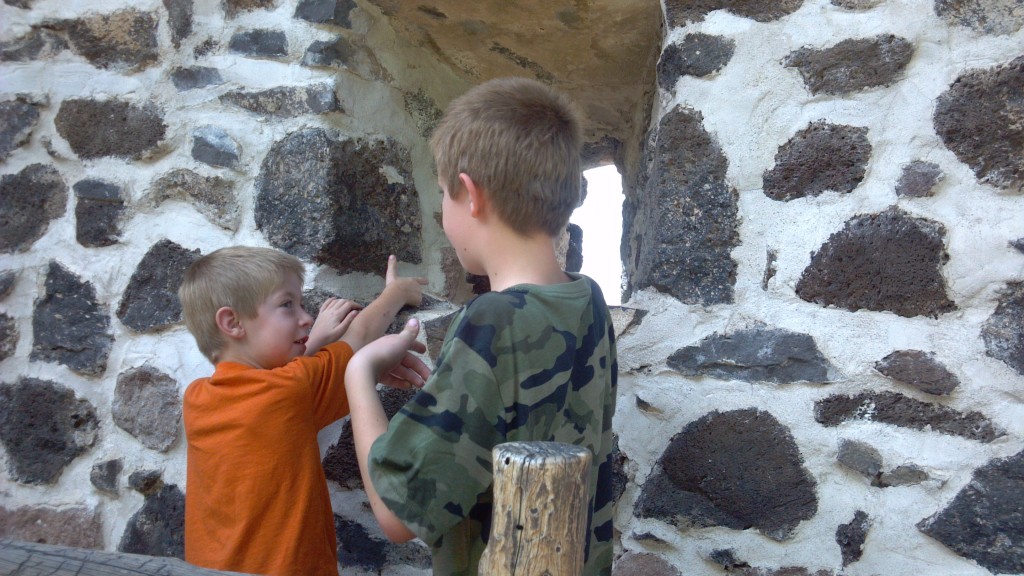 Here they are checking out the gun ports in the walls of Cove Fort.  If needed (and they weren't) they could have used these to defend the fort from attacks. Every exhibit was nicely done and this was a comfortable place to stop and spend an hour.
From here we headed back to Meadow (one exit south of Filmore) and went exploring.  From Meadow you watch for a street that heads west with a sign for White Mountain.  About 6 miles along that road and you will see White Mountain.  It's obvious.  Bright white sand decorates the area.  If you go just a little further you come to Tabernacle Hill Lava Fields.  There are lava tubes out there somewhere.  That's what we were looking for. . . we have a good idea where to go next time, but this time we just found some awesome lava rocks.
Yes, that's right.  It was nearly 100 degrees out and we were wandering around black-hot lava fields.  Although we didn't find the lava tubes we found lots of cool rocks that we just had to bring home.
So how do we end this trip?  By swimming in Meadow Hot Springs of course!
I wasn't too sure about swimming in HOT springs when it was already so hot outside, but they were actually quite pleasant.  There are three different pools.  This is the middle one.  Two of the pools are cooler and have other things swimming in them (fish in the biggest which has a dock, and water bugs in this one).  The last of the pools is the most obvious (with a parking lot and clearly marked pathway out to it), the smallest and the warmest.  That is where we swam and played.
We had a great time on our day trip.  What did we miss?  Where should we visit next time we are in the area?  What are your favorites in Filmore and nearby areas?
So, we went to the launch this morning and had a great time!  I wanted to get this blog put together right away because the festival continues tonight and again tomorrow morning and evening.  We had lots of fun and took lots of pictures.
The festival kick off was this morning at Storm Mountain Park (11400 South 1000 East in Sandy).  We brought breakfast with us (box of bagels and cream cheese) and set up at Storm Mountain Park along the edges to watch the festivities.  There was a vendor available selling muffins, coffee, and that sort of yummy breakfast items.  The first group of balloons took off around 7am, a few more at 7:30am and there were a few that never really took off.
Tonight the festivities will be at the South Towne Promenade in front of Sandy City Hall (10000 South 173 west.)   They will have a balloon glow beginning at 8pm with music and food vendors.  We have never been to the evening festivities, but it does sound like fun.  You can find more information on the whole event here.
The highlight this morning was when the boys got to go for a ride (just a few feet) in one of the balloons.  Fabulous!  Here are some of our favorite pictures!  Hope you enjoy and that you might get to go and enjoy the festivities this weekend!
Don't know about the rest of the world out there, but I am always looking for short, easy, family hikes.  Something to get us away from the video games and televisions and computers and out in the real, natural world.  The kids moan and complain at having to leave the house and then laugh and play the whole time we're out.  I found Rocky Mouth waterfall to be one of these great short hikes.
The trail head is in Sandy at about 11248 S. Wasatch Blvd.  There is a small parking area there that is nicely labeled so you can be confident you found the right place.  From there you go up a set of stairs that takes you into a very nice neighborhood.  You'll head to the right and follow the street around a little bit.  Watch for the trail (it is sandwiched between two of those houses) which is marked and has a wrought iron fence and gate near the street.  Now that you are on the trail the first 100 feet or so are steep like those stairs coming out of the parking lot.  Take heart!  This part of the trail only lasts a bit and then it evens out and is quite easy. Don't give up!
I went on this hike on Thursday with my nephew and two boys (ages 6, 9 and 9) and we passed a group of Mom's and young children on that steep part who had stopped to rest.  They were worried about how tough this trail would be and wondering if they had miscalculated what the children could handle.  They were nearly to the top of the tough stuff so I reassured them that they were probably half way there.  The whole hike is really only a quarter of a mile and it ends with a nice waterfall.  You can easily do this hike in a half an hour and there is water which makes it magical!  
We have that wonderful Pass of All Passes.  We bought it at Christmas time for the entire family and got a great deal!  We've been to Trafalga in Lehi a couple of times, and talked about going to the new Fun Center in Sandy.  Since we got the passes in December, my kids have been most excited about the waterpark.  Seriously, in February they were asking if we could go to the water park yet.  They seemed genuinely puzzled when I explained that they didn't open until June.   So, now that it's open, we decided to go.  The glorious weekend when we would grab those passes and head to the water park.  We already had our passes, so this would be a cheap family outing.  Right?
Hmph.  Not so much.
First of all, let me be clear. . . I'm talk about the Seven Peaks Water Park in Salt Lake City (formerly known as Raging Waters).  Let me tell you about our day.
The good news is that the park opens early (9:30a.m.) for pass holders.  Yah!  So we were there around 10 or 10:30a.m. and excited to check out the park!  First off, parking costs $5 if you want to park in their lot.  Or you can pay for a season parking pass for $20.  Sure, we're excited this is going to be fun.  We buy the season parking pass.  This cannot be purchased at the parking lot fixure – we had to go to the offices, and stand in line to buy this upgrade.  In the process we are asked if we are only doing the parking pass or if we are also adding a tube rental.  I've heard friends say they would definitely do that tube rental so we ask for additional information.  Tube rental is $20 for the season if purchased individually or it is $30 for both the tube rental and the parking.  Deep breath.  Okay, we'll get them both.
Finally, we get into the park and divide to the different restrooms to get changed.  My sweet husband gives me a few quarters for a locker (see this just shows you how naiive we were going in) and we each go our different way.  In the womens restrooms I can find no dressing rooms – only bathroom stalls. And a large portion of those are taped off and out of order.  So, I wait in line and change in the stall.  Also I can find no lockers.  So I head out to the "beach" next to the wave pool and wait for my family.  While sitting there I notice a cabana filled with lockers.  When I investigate I see some larger ones that say to find one with a key and insert $.50 to use it for the day.  None of these have keys in them, but I start thinking that at least it won't cost too much.  As the rest of my family comes out I notice a small stand near the entrance for locker rentals.  This is where my husband stops and rents us a locker for $6.
So far, this cheap fun family outing has had a lot of extra hassle and cost us $36.  But, we here and changed and ready to get wet!  We lather up with sunscreen and head over to the slides.   When I visited Raging Waters (many many years ago) they had tubes for the slides, but they were optional.  So, we head past the tubes to the slides and start up the stairs to the top.  On the way we notice that everyone coming down the slides has a tube.  We get to the top and ask the lifeguard and sure enough – you have to have a tube to ride on the slides.  Bummer.  Good thing we added that tube season rental right?
So we go and check out the rental and of course the one pass has only a single rider tube rental.  We are told that our youngest is small enough that he can ride on someone's lap, but we need more tubes and we'll have to pay the difference.  Great.  More money.  Well there are triple rider ones and we figure that will work for the 4 of us (with our youngest on a lap).  So we get the $8 difference and carry that big triple tube up to the top.  Then the lifeguard tells us that these tubes can only have 3 riders.  Grrr!!!
So, here is what you need to know about the tubes.  It cost $5 for a single, $13 for a triple and something in between for a double.  If you have kids that are small enough they can ride on the lap of someone 16 years or old, but only on a single tube.  Double tubes can have only 2 riders and triple tubes can have only 3.  All of this confusion could be cleared up with good signs and overall this was my biggest problem with our outing.  If I'm going to break the rules, I like to know I'm doing it.  Please post the rules so I'm not getting in trouble (or wearing myself out) because I don't know what the rules are.  A few of the rides do have height restrictions.  I finally started just asking the life guards at the bottom what the restrictions were because they are not posted anywhere.  We had even looked online before coming and the information was not readily available there either.
In fairness to the staff they were kind enough to trade our triple tube for a single and a double which we could make work with our family.  I think when I added that up we may have come out a dollar or so ahead.  My husband did visit the office after our outing for the day and shared our concerns and the details of our experience.  The manager he spoke with was courteous and responsive and offered to give him some free coupons or credits to help him feel better about it.
If you decide to go to Seven Peaks Water Park in SLC and want to know the least expensive way to do it – here's what I've learned.  You do not have to park in their parking lot.  Go early and get parking on the street so you can save the parking fee.
Know going in that you will want tubes if you want to do any slides.  Without tubes there are still options but if your kids are like mine you'll need to give them a heads up.
What to do without tubes:
There is a dinosaur little kid playground that doesn't require the tubes.
 You can also enjoy the lazy river without any problems
The wave pool if you're brave enough to be around all the other bopping tubes.
 There is a set of pink slides that ends with a 6-7 foot drop into a 9 foot pool that good swimmers can enjoy without the tube.
And, there are a couple of slides that come with their own props (some steep ones with hard yellow plastic slides and a rollercoaster style slide by the lazy river that uses it's own pad.
So there are things to do without the tubes, but you will see all those big slides and you will probably want a tube.  You can bring your own food, but you cannot bring it into the park.  Pack a lunch and eat it in the picnic area just outside the gates; or eat under the shady trees out front like we did.  You can bring in plastic water bottles but not glass.  It was a warm day and we got thirsty very fast.
The Cost of Our Not-So-Cheap Family Outing
Parking $20 (could have done $5)
Locker Rental $6
Tube Rentals $18 (can be as little as $5 per person)
Lunch and Water to drink $30 (ordered from Apollo burger down the road and 7 Eleven)
I hope this information helps others to have a better time than we did.  If you have other tips we would love to hear them.
Oh, one last thing – be careful of the sun.  It's easy to burn at the water park, even if you put on sunscreen and remember to re-apply.  Next time I'll be the strange lady with long sleeves and a big hat.  I burn way too easily.